I've been busy this past week working on this gift for my friend, Fonda. She is having baby number 5, Hannah, in March. This is a baby who was meant to be here, a true gift from God, as Fonda had a tubal ligation after Emma was born. The doctor freaked out a little, but not Fonda, as she realized this was a miracle. Her tube had actually formed new growth, and we know that was an act of God. And we imagine He must have big plans for this little girl! Fonda is a very special friend. She was in the delivery room when Ruthi was born. She and my other dear friend, Penny were awesome support in bringing Ruthi into this world. Chip and I are very thankful for both of them, and blessed that they and their families are in our lives.
Now, onto the gift. I actually created a scrapbook for Emma's first year, and I loved it, but it was very time consuming. I wanted something just as special, but that wouldn't take quite as long, since it's hard to squeeze in enough time for an entire book. None of these ideas are original, I was inspired from things I had seen online. I may not be great at coming up with the ideas, but I am at re-creating them! This first picture is the grouping of things for baby Hannah.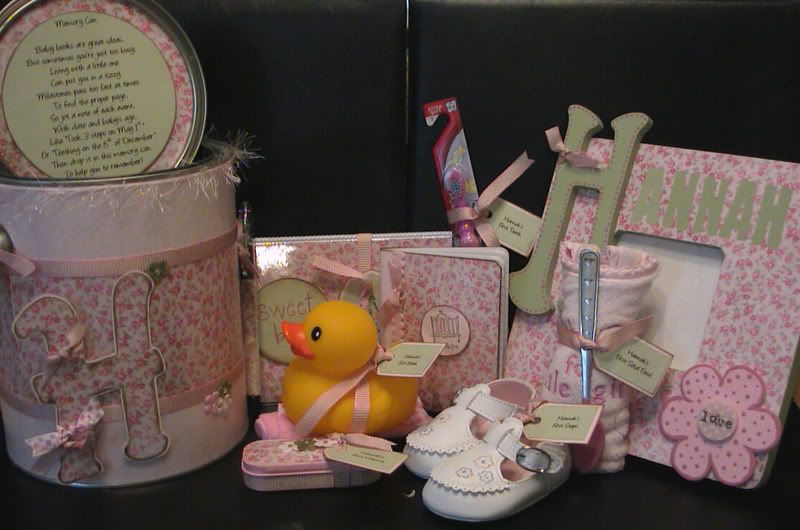 This is a close up of the paint can I altered. I mod podged the paper on, then attached the ribbons and flowers. To get the H, I printed it from MSWord and used it as a pattern.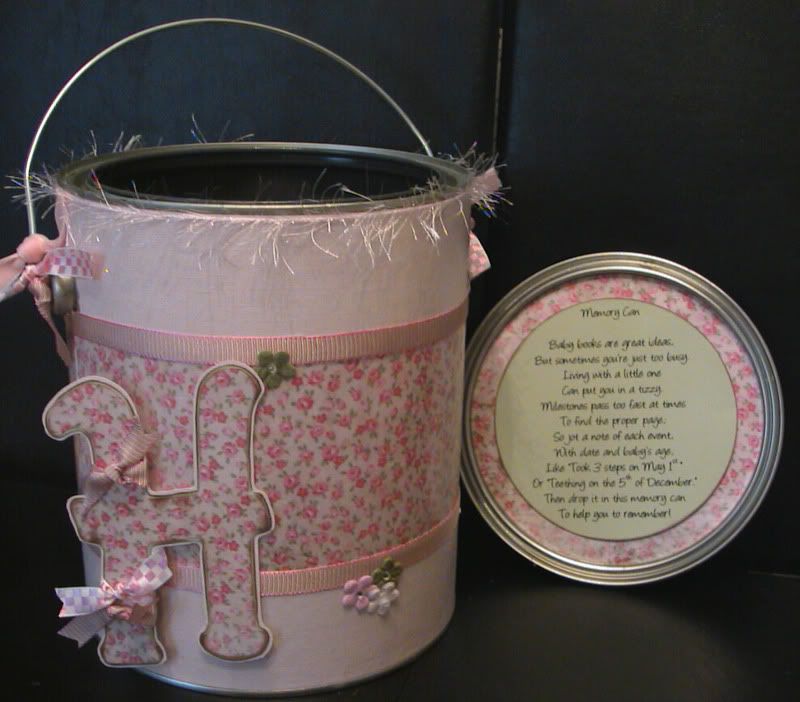 The poem on the lid reads:
Memory Can
Baby books are great ideas,
But sometimes you're just too busy.
Living with a little one
can put you in a tizzy.
Milestones pass too fast at times
To find the proper page;
So jot a note of each event,
with date and baby's age.
Like "Took 3 steps on May 1st"
or "Teething on the 5th of December."
Then drop it in this memory can
to help you to remember!
This picture show the things that are included in the memory can. I included little tags for "baby's firsts".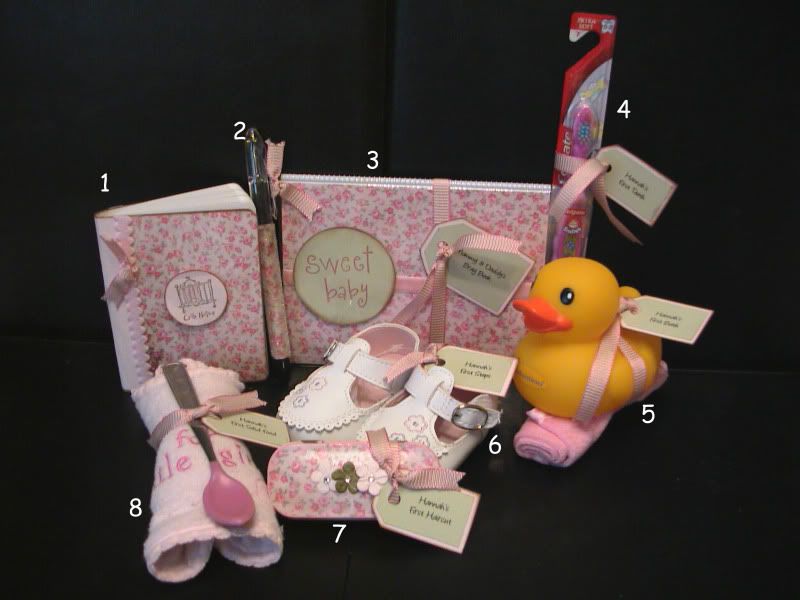 The items are: 1. An altered mini composition book - I stamped the image that is on the front it says 'Crib Notes'. 2. A beaded pen using the same floral paper that is used on the other items. 3. Altered photo album (Mommy & Daddy's brag book) 4. A tooth brush (Hannah's first teeth) 5. Rubber ducky and washcloth (Hannah's first bath) 6. Shoes (Hannah's first steps) 7. An altered Altoid gum tin to hold a lock of hair (Hannah's first haircut) 8. Bib and baby spoon (Hannah's first solid foods).
This frame is just a wooden frame from Michael's, I painted the edges and covered the front with paper. I also bought the letter H and the wood flower from Michael's and then hand painted them Then tied just a little ribbon on the H and added the cute button to the flower.
I also included a set of 24 thank you cards. I actually made these before I bought the paper to make the other things, which is why they don't match. I decided to make them pretty general (no baby theme) so that she could use them later if she doesn't need them all. The button in the center of the flower is actually the same color as the darker pink paper, and looks much better in person. It just didn't photograph well. I noticed that the corner of this one is bent - I need to fix that!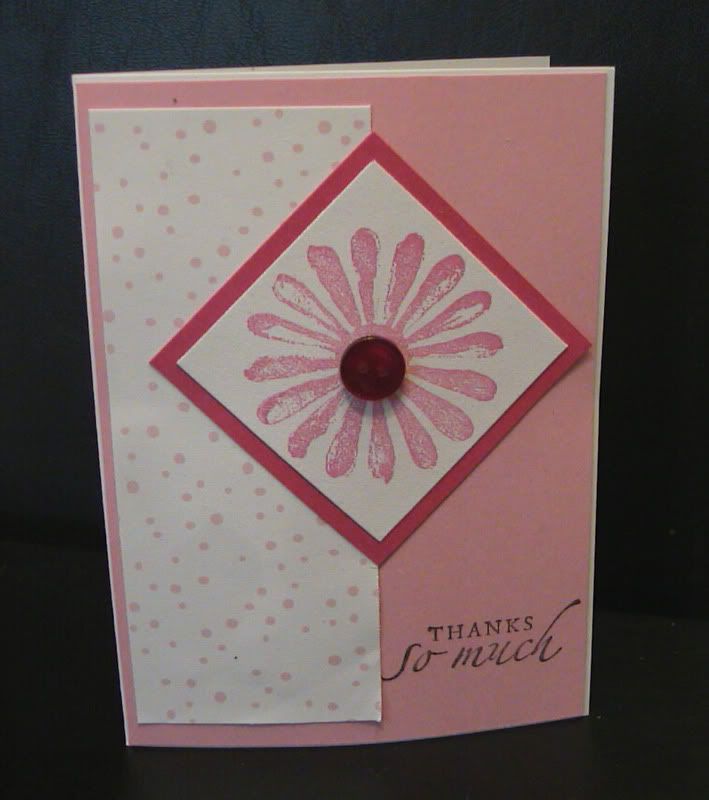 And this final picture is a few things I made for mom - she deserves a little treat too! The two bottles are Starbucks Frappuccino bottles (clean of course!) that I decorated. One is filled with homemade bath salts, and the other is filled with M&M's disguised as "Mom's Vitamins". I decorated the little votive holders and added some votive candles. And the final treat is a large Hershey bar - she's going to need her energy!
The "Vitamin" directions read:
Take as needed.
Blue for headaches, Green for relaxing,
Red for energy, Orange for backaches.
Save yellow & brown for Dad
so he will change diapers.
If all else fails,
Take whole bottle with hot bath.