Well, since Valentine's Day is only 4 days away, I thought I'd share the Valentine cards I made. I am a member of a Scrapbook message board, and we have challenges we participate in to help us get things done. I am very competitive when it comes to these and get as much done as possible. This is the second year we've had a 'Superbowl Challenge'. We are divided into two teams and we scrapbook for points. I was scrapbooking almost nonstop for 4 days. I slept very little (about 4 hours a night) and stopped only when absolutely necessary. I got the most done very late at night when the kids were asleep. I wasn't going to bed until 4 or 5 am! One of the things to make to add up points was Valentine's cards. So I made 16 of them! I usually only send cards out to our parents and grandparents, but this year a few others will receive them too! I made them all in the same design so that I could put them together in an assembly line fashion. It only took me about an hour to make 16 cards. Anyway, this is how they turned out: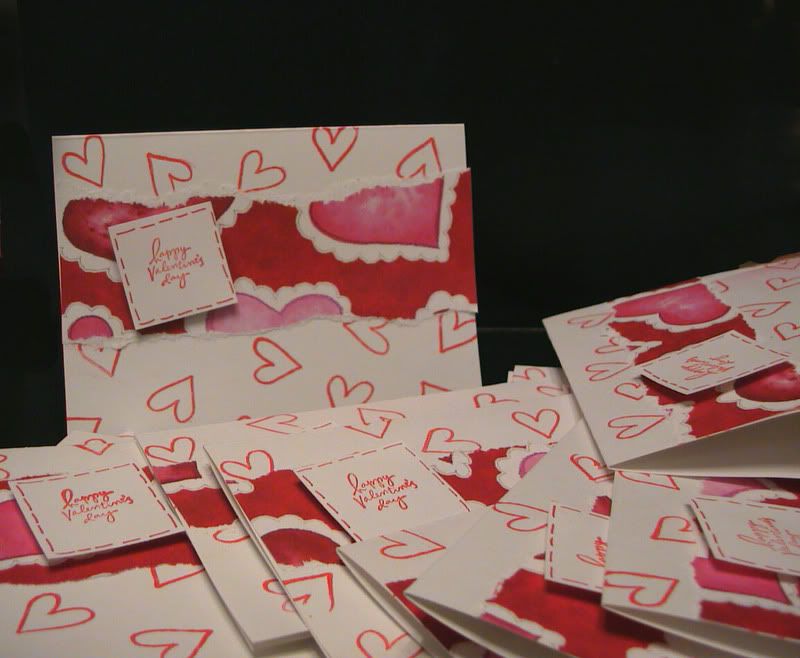 These are a super simple design. The stamps are $1 stamps from Michael's. I stamped the background with the heart. Then I tore the patterned paper (Provo Craft) and adhered it. I stamped the sentiment on white cardstock and punched with my square punch. Added a little pen stitching, and adhered with pop dots to lift it off the card. So easy, but I think they turned out kinda cute!
During the Superbowl Challenge, I also got 24 12 x 12 layouts completed. In the spirit of Valentine's, I thought I'd share a Valentine one I created. I'm trying very hard to get caught up on older pictures, though I don't think I'll ever truly be caught up. These pictures were taking in 2005 on Ruthi's first Valentine's Day.